Katherine Howard - Artist
painting • photography • sculpture • digital
Thank you for visiting! Please allow me to introduce myself—I am an artist living in the suburbs of Atlanta, GA with my fiancé Jack and my three cats most of the year, with an annual stay in the lakes region of New Hampshire at my family's lake house. I have lived in seven states altogether.
I work in nearly any medium I can figure out how to use, and am always looking for new ways to express myself. My studio artwork is largely an expression of my deeper emotional nature; it tends to be dramatic and moody as a result. I also try to show the beauty found in mundane objects in nature and around us in our daily lives, such as a fallen leaf on the ground, or a cast shadow on the pavement.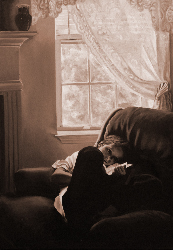 I work primarily in oil on canvas and have many originals for sale in the gallery (see the links on the left) as well as giclée prints. I also work in sculpture, photography, and digital media. My work can be seen often locally in galleries, and around the world in private collections. See the exhibitions page for upcoming, current, and past exhibitions. I have been priveleged to be the recipient of many awards in local, regional, and international competitions (see my résumé for details).
Want to vote for me? I sometimes enter the "just for fun" contests run by members at FineArtAmerica.com. [By "sometimes" I mean when I have time and I remember--quite often these links will be way out of date because I haven't joined any contests recently.] Most of these are members-only but sometimes the contests are open to voting by the public. When I am in a public contest, I will post it here, and if you feel like it, you can vote for me. Most of the contests allow unlimited voting (just only one vote for any one piece) so feel free to vote for other people's work that you like as well.
Speaking of FineArtAmerica and contests, I sometimes run them myself, with the "prize" being the first place winner(s)' entry displayed here for a month. You can see those contests on this page.

I am always available for commission work in various media. I specialize in monochromatic figurative work, which has a similar visual quality to a black and white photograph. I tend not to do the type of portraiture that looks like a yearbook or JCPenney's portrait photo, as I feel they are more like documentation than like art. Ideally, I would like to take the reference photo myself to create a composition that works with my artistic style, but I can work from existing photos as well. I am also happy to do non-portrait commissions. If you are interested in commissioning a work from me, please email me to discuss your ideas.
Visit my galleries hosted at FineArtAmerica here: Katherine Howard Fine Art: Painting | Sculpture | Photography | Photograms. High quality giclée prints are available of most of my 2-d work, either on your choice of a range of quality papers or on canvas (I recommend stretched canvas for prints from paintings). For an additional fee you can purchase an enhanced print, which I hand-retouch with paint to make it a true original. Visit my Prints page for more details.
Visit my links page to visit websites of other artists.
Presentation design consultation! Visit my site Pimp My PPT Presentation to see how I can help you convert your information to an engaging, professionally designed PowerPoint® presentation.
Mailing list! Sign up for the mailing list to be informed of any shows or exhibitions that my work is in, as well as any major updates to the website.
Download a printable pdf file of my business card! If you print it out and give one to 20 of your friends your biggest crush will call you within 7 days!
pdf (172KB) | zip (164KB)
(note, these look huge until you set the zoom level to 100%)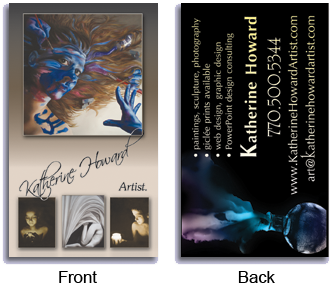 All contents © 2008 - 2013 by Katherine (Fernie) Howard, all rights reserved. Contact me
For upcoming shows and other announcements, join my low-volume mailing list.